Comments on Zidane and alleged sexual harassment: Noël Le Graët under fire
Comments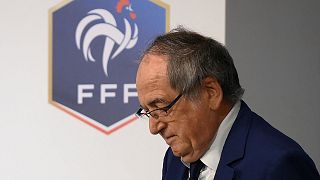 How long will Noël le Graët remain as president of the French Football Federation?
Eighty-one-year-old Le Graët is under fire over mismanagement of the organisation and accusations of sexual harassment, including sending inappropriate text messages to female colleagues.
France's Ministry of Sports has now requested a hearing with him, months after it launched a probe into his behaviour.
The long-standing president of the Federation denies the accusations but he's also facing a backlash over comments he made about French football legend Zinedine Zidane.
One slip too many
When asked if Zidane could take over as coach of the national team, le Graët responded that he wouldn't even take Zidane's call.
Already controversial and criticised, he said a few days ago that he "didn't give a damn" about Zidane, making his position at the head of FFF even more precarious.
It was one slip too many, says the French Sports minister, Amélie Oudéa Castéra.
"A president has to embody a certain number of imposed patterns. And I think that he is profoundly lacking in one of them, which is representation and embodiment.
"And as it's the first French sports federation, it is very problematic."
Kylian Mbappé, Paris Saint-Germain's star striker, also denounced Le Graët's lack of respect for Zidane. Le Graët has since apologized for what he dubbed his "clumsy remarks" about Zinedine Zidane's potential interest in coaching the France national team.
The hearing takes place on Tuesday afternoon but Le Graët will have to wait until February to see if he still has a job.