Time to paws: Puppy yoga craze sweeps UK
Comments
By Euronews with AP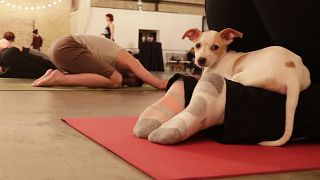 -
Copyright

Adam Wesley/AP
Welcome to the world of puppy yoga.
It's a yoga class like no other, thanks to the presence of six-week-old puppies.
There might be many of the traditional yoga poses - including downward dog - but they must be executed with puppies running and playing at liberty.
Puppy yoga aims to combine the spiritual and physical benefits of a typical yoga class with the added mental boost of playing with cute puppies.
Tyler Whitworth is the yoga teacher attempting to deliver a class, amid the patter of tiny paws - sometimes it's not always easy.
She usually teaches vinyasa flow or yin yoga classes, but puppy yoga is a new challenge she's happy to accept.
"So, I'd say some of the difficulties are that it's hard to focus because obviously they're adorable, so you can't not look at them," she said.
"But also, the little nibbles that they gave you or maybe they're climbing on you is sometimes a bit of a practice, but it's a beautiful practice, be self-aware more than anything."
The yoga level is aimed at beginners, so everyone can join the fun.
But it's not just beneficial for the participants, it can also help socialise the puppies before they're found new homes... and sometimes help them to meet potential new owners.
"So, puppy yoga, it benefits the puppies because it really contributes to their socialisation process before they go to any homes," Puppy Yoga co-founder Logu Priest said. 
"It's amazing for everyone's mental health. It really is pretty positive for everyone".
For more watch Euronews' report in the video above.