Ukraine war: Power supplies 'critical', Iran pledges more drones, Zaporizhzhia prisoner swap
Comments
By Euronews with Reuters, AFP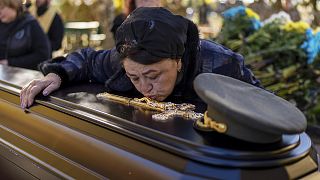 -
Copyright

AP Photo/Emilio Morenatti
1. Some 30% of Ukrainian power stations have been destroyed, says Zelenskyy
Ukraine's government has described the situation as "critical" after new Russian strikes pounded the country's power plants on Tuesday, causing major blackouts as winter approaches.
The latest assaults look like a coordinated attempt to destroy Ukraine's electricity and water supplies before winter, with energy facilities struck in or near several cities, including Kyiv, Dnipro, Kharkiv and Zhytomyr.
Two people have been killed in the attacks on the capital, while a man died after a Russian missile struck a block of flats in the southern port of Mykolaiv, the authorities said.
"Another kind of Russian terrorist attacks: targeting (Ukraine's) energy & critical infrastructure," President Volodymyr Zelenskyy wrote on Twitter.
"Since 10 October, 30% of Ukraine's power stations have been destroyed, causing massive blackouts across the country. No space left for negotiations with Putin's regime."
"The situation is critical now throughout the country, because our regions are dependent on each other," presidential official Kyrylo Tymoshenko said on television, saying it was "necessary for the whole country to prepare for the possibility of power, water and heating outages".
It comes the day after several people were killed in another wave of attacks using missiles and so-called "kamikaze drones".
Another victim was reportedly pulled dead from the rubble of a building in Kyiv, raising the total number of those killed in Monday's strikes to 10.
2. Annexed Ukrainian regions are under Moscow's nuclear umbrella, Putin's spokesman says
Russia said on Tuesday that four Ukrainian regions -- Donetsk, Luhansk, Kherson and Zaporizhzhia --whose annexation it one-sidedly proclaimed last month after sham referendums are under the protection of its nuclear arsenal.
The statement from the Kremlin came at a moment of acute tension, with both NATO and Russia expected to hold military exercises shortly to test the readiness of their nuclear weapons forces.
Asked by reporters if the regions were under Moscow's nuclear umbrella, Kremlin spokesman Dmitry Peskov said: "All these territories are inalienable parts of the Russian Federation and they are all protected. Their security is provided for at the same level as [it is for] the rest of Russia's territory."
President Vladimir Putin said last month that Moscow was ready to use nuclear weapons if necessary to defend Russia's "territorial integrity". 
US President Joe Biden said on 6 October that his threat had brought the world closer to "Armageddon" than at any time since the 1962 Cuban Missile Crisis when many feared a nuclear war might be imminent.
Nearly eight months into his invasion of Ukraine, some analysts believe the likelihood of Putin resorting to nuclear weapons has increased since his army suffered a series of major defeats. 
Other analysts have argued the nuclear risk is overstated, suggesting it would be suicidal for Putin to embark on such an escalation.
3. Iran-made drones under scrutiny
Monday's air strikes were the second wave of attacks in a week. Ukraine said they were carried out by Iran-made "suicide drones", which fly to their target and detonate.
The United States, Britain and France agreed that Iran supplying drones to Russia would violate a UN Security Council resolution that endorsed the 2015 nuclear deal between Iran and six powers.
Several EU foreign ministers on Monday called for sanctions against Iran over the transfer of drones to Russia. The White House accused Iran of lying over its denials that Iranian drones are being used by Moscow in Ukraine.
Tuesday's intelligence assessment by Britain's defence ministry says Russia's heightened campaign of long-range strikes has been conducted by cruise missiles, air defence missiles, and "Iranian-provided Shahed-136" drones.
"As Russia has suffered battlefield setbacks since August, it has highly likely gained a greater willingness to strike civilian infrastructure in addition to Ukrainian military targets," it said on Twitter.
4. Iran pledges ballistic missiles and more drones to Russia
Meanwhile, Iran has promised to provide Russia with surface-to-surface missiles, in addition to more drones, two senior Iranian officials and two Iranian diplomats told Reuters, a move that is likely to infuriate the US and other Western powers.
A deal was agreed upon on 6 October when Iran's First Vice President Mohammad Mokhber, two senior officials from Iran's powerful Revolutionary Guards and an official from the Supreme National Security Council visited Moscow for talks with Russia about the delivery of the weapons.
"The Russians had asked for more drones and those Iranian ballistic missiles with improved accuracy, particularly the Fateh and Zolfaghar missiles family," said one of the Iranian diplomats, who was briefed about the trip.
A Western official briefed on the matter confirmed it, saying there was an agreement in place between Iran and Russia to provide surface-to-surface short-range ballistic missiles, including the Zolfaghar.
The Iranian diplomat rejected assertions by Western officials that such transfers breach a 2015 U.N. Security Council resolution.
"Where they are being used is not the seller's issue. We do not take sides in the Ukraine crisis like the West. We want an end to the crisis through diplomatic means," the diplomat said.
Ukraine has reported a spate of Russian attacks using Iranian-made Shahed-136 drones in recent weeks. 
Iran has denied supplying the drones to Russia, while the Kremlin on Tuesday denied its forces had used Iranian drones to attack Ukraine.
5. New Zaporizhzhia 'kidnappings' and prisoner exchanges
In a separate development, Ukraine's state nuclear energy company accused Russia on Tuesday of "kidnapping" two more senior staff at the Russian-occupied Zaporizhzhia nuclear plant in southern Ukraine.
The power station's head of information technology, Oleh Kostyukov, and Oleh Oshek, an assistant to the plant's director, were seized on Monday, Energoatom wrote on the Telegram app on Tuesday.
"At present, nothing is known of their whereabouts or condition," its statement said.
Meanwhile, on Monday, Ukraine and Russia carried out one of the biggest prisoner swaps so far, exchanging a total of 218 detainees, including 108 Ukrainian women — including 12 civilians, according to Ukraine's chief of staff.
Zelenskyy said later that his troops should take more prisoners, saying this would make it easier to secure the release of soldiers held by Russia.
6. More deaths as Russia strikes power plants and homes
In Kyiv, the strikes targeted key infrastructure and caused power and water cuts on the capital's left bank, the Ukrainian prosecutor's office said on Tuesday. "Two people were killed and one injured," it added.
Earlier, officials and witnesses reported several explosions as Russian forces attacked energy infrastructure in northern Kyiv, sending smoke rising over the city.
Tymoshenko said there had been three Russian strikes on an unspecified energy facility, while the city's mayor said the attack was on "critical infrastructure".
The missile in Mykolaiv, where at least three explosions were heard, completely destroyed one wing of a residential building in the city centre, leaving a massive crater.
A fire crew pulled the dead body of a man from the rubble, a Reuters witness said, and Zelenskyy confirmed that one person had died in the attack.
The government confirmed fresh strikes on power facilities in Kharkiv, Dnipro, and Zhytomyr, around 100 kilometres to the west of the capital.
In Dnipro, a city of a million people where Tymoshenko said there was "serious damage", the local governor said several districts were without power and water. The mayor of Zhytomyr — home to a quarter of a million people — also reported power and water outages.
"Ukraine is under fire by the occupiers. They continue to do what they do best — terrorise and kill civilians," Zelenskyy wrote on the Telegram messaging app.
"The terrorist state will not change anything for itself with such actions. It will only confirm its destructive and murderous essence, for which it will certainly be held to account."
The Russian defence ministry repeated that it was targeting military and energy infrastructure with high-precision long-range air and sea-based weapons. "All assigned objects were hit," its statement said.