UK consumers face 80% rise in energy bills from October as regulator raises price cap
Comments
By Euronews with Reuters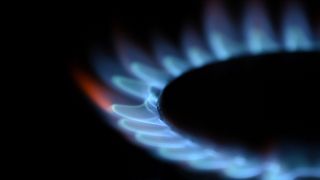 -
Copyright

GLYN KIRK / AFP
The cost of energy for British consumers will rise by 80% from October, the UK's regulator said on Friday. Ofgem's move will see average annual household bills soar to £3,549 (€4,204), up from the current figure of £1,971 (€2,328).
The move looks set to further fuel inflation amid a cost of living crisis and put pressure on the government to act.
Ofgem Chief Executive Jonathan Brearley said the rise would have a "massive impact" on households across Britain, and another increase was likely in January, reflecting significant pricing pressure in energy markets.
He said the government needed to deliver further help to households.
"The government support package is delivering help right now, but it's clear the new Prime Minister will need to act further to tackle the impact of the price rises that are coming in October and next year," he said.
"The response will need to match the scale of the crisis we have before us."
New forecasts suggest typical annual energy bills could rise again in January to well over £5,000 (€5,900) in January, and more than £6,000 (€7,090) in April.
Finance minister Nadhim Zahawi said he was working on a plan to be ready for the next government, which will be appointed when either Liz Truss or Rishi Sunak becomes prime minister on 5 September.
The regulator's move comes amid soaring global gas prices, exacerbated since the start of Russia's war in Ukraine which has seen Western sanctions imposed on Moscow.
Government under pressure to act
The departing Conservative Prime Minister Boris Johnson has left this politically sensitive issue to the next head of government, following the ruling party's leadership election.
The favourite to replace him, Liz Truss, has until now favoured tax cuts over direct aid. "What won't work is simply a sticking plaster of handing more money out without dealing with the root cause" of the energy crisis, she said on August 17. 
On Friday, she appeared to soften her stance in an article for the Daily Mail.
'If I am elected leader of the Conservative Party and prime minister, I will take decisive action on entering No 10 to provide immediate support," she wrote, repeating her pledge to "tackle the root causes of these issues".
"To those of you feeling the squeeze, my message is clear: I will ensure support is on its way and we get through these tough times."
The government promised earlier this year a £400 (€473) energy bill rebate for every household.
Poorer households that have already received government benefits will also get a one-off "cost of living" payment of £650 (€768). Pensioners will receive an extra payment of £300 (€355) this winter, while people with disabilities are also set to receive a payment of £150 (€177).
Price hike a 'dagger to the heart'
A study by the University of York predicts that 58% of Britons will be in fuel poverty next year. Campaigners have responded to the huge rise in the price cap by calling for immediate government action, arguing it needs to go much further.
"Today's Ofgem price hike is like a dagger to the hearts of millions of people up and down the country," said Simon Francis, Co-ordinator of the End Fuel Poverty Coalition which represents over 60 charities, local authorities and campaign groups.
"As a result of the decision, parents will be unable to feed their children, the sick and elderly will be condemned to worsening health, disabled people will go without vital medical equipment and households will be forced into poverty for the first time in generations," he added.
"All the solutions lie at the Westminster Government's door, yet it is silent in the face of this looming disaster."
Francis called for emergency financial support, reform to Britain's "broken energy system", and more support for energy efficiency measures.
"Warm This Winter,", a new campaign backed by dozens of organisations, has launched a petition calling for urgent government action to help people cope with heating bills.
Another campaign, "Don't Pay UK", has called on Britons to boycott paying their energy bills come October.
Europe's governments scramble to help households
Across Europe, governments are scrambling to find ways to shield households and businesses feeling the impact of the surge in energy prices.
Spain and Portugal have already limited local gas-based power prices, while France has capped electricity price hikes. President Macron has called for unity in the face of "a great upheaval" and "the end of abundance".
Germany, which fears a gas shortage, enacted a series of energy-saving measures. Italian Prime Minister Mario Draghi has said that EU countries should agree on a cap on the price of gas they import from Russia. 
The Czech Republic, which holds the European Union's rotating presidency, is said to be considering whether to call an emergency energy summit for the bloc.