Ukraine war: Germany slams 'inhumane and cynical' Russia over Odesa region missile strike
Comments
By Euronews with Reuters, AFP, AP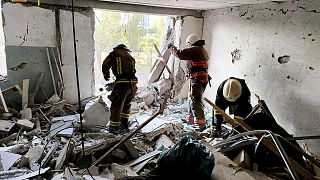 -
Ukrainian authorities say Russian missiles have struck a multi-storey block of flats and nearby holiday resorts in Ukraine's southern Odesa region, killing at least 21 people and wounding dozens.
The Ukrainian president's office said three X-22 missiles fired by Russian bombers struck an apartment building and two campsites. Ukraine's Security Service said two children were among the dead.
Ukraine's Security Service said 38 people, including six children and a pregnant woman, were being treated in hospital for injuries.
Kyiv says the missiles were fired from a plane in the Black Sea, where a day earlier Russian troops left the strategically important Snake Island.
"A terrorist country is killing our people. In response to defeats on the battlefield, they fight civilians," said Andriy Yermak, the chief of staff to the Ukrainian president.
In Berlin, the government condemned the attack and fresh denials of responsibility from the Kremlin.
"The Russian side, which is once again talking about collateral damage, is inhumane and cynical," said German government spokesman Steffen Hebestreit.
'We helped carry out bodies'
Most of the victims were in the apartment block in the village of Serhiivka in the Bilhorod-Dnistrovskyi district, about 80 kilometres south of the city of Odesa.
Regional emergency official Ihor Budalenko said a missile struck the building at about 0100 local time (midnight CET), killing 16 people.
He added that 41 people had been rescued from the building where 152 lived. The number of victims rose to 21 by Friday afternoon, and it might be even higher as work was ongoing to find people who could still be trapped.
One section of the building was completely destroyed, while the walls and windows of a neighbouring, 14-storey block were damaged by the blast wave.
"We came here to the site, assessed the situation together with emergency workers and locals, and together helped those who survived. And those who unfortunately died. We helped to carry them away," said Oleksandr Abramov, who lives nearby and had rushed to the scene when he heard the blast.
Another three people, including one child, were killed in strikes that hit nearby holiday resorts, officials said.
Moscow repeats denials over civilian targets
Ukraine's presidential office said a series of Russian strikes in the past 24 hours also killed civilians in eastern Ukraine — four in the northeastern Kharkiv region and another four in Donetsk province.
Meanwhile, the Kremlin — which says it hits only military infrastructure — has again denied targeting civilians.
"I would like to remind you of the president's words that the Russian Armed Forces do not work with civilian targets," Kremlin spokesperson Dmitry Peskov told reporters.
However, thousands of civilians have been killed since Russia launched its full-scale invasion of Ukraine on 24 February. Many attacks have hit civilian infrastructure, such as apartment blocks, schools, railway stations, shopping centres and theatres.
A Ukrainian general said on Thursday that Russia may be trying to hit military targets but is killing civilians by firing inaccurate, obsolete missiles into populous areas.
Warning: The next image may be disturbing to some viewers
Russian missile strikes 'doubled in two weeks'
A Ukrainian military leader said on Thursday that the number of Russian missile strikes on Ukraine had more than doubled in the last two weeks.
Brigadier General Oleksii Hromov estimated that 68 civilian sites had been hit, and claimed that Moscow was using inaccurate Soviet-era missiles for more than half of the attacks.
The latest attacks come a day after Russia pulled its troops out of the strategically important Snake Island in the Black Sea in what the defence ministry in Moscow described as a "goodwill gesture" aimed at easing grain exports from Ukraine.
The Ukrainian military, which had been bombarding Russia's forces on the island relentlessly, said the Russians were forced out, fleeing in two speedboats.
Battle rages for Lysychansk
President Volodymyr Zelenskyy hailed the Russian withdrawal from Snake Island as a strategic victory.
"It does not yet guarantee security. It does not yet ensure that the enemy will not come back," he said in his nightly video address. "But this significantly limits the actions of the occupiers. Step by step, we will push them back from our sea, our land and our sky."
In contrast, however, Ukrainian forces were desperately hanging on against Russia's superior firepower in the city of Lysychansk.
Russian artillery shelled from different directions while the Russian army approached from several sides, regional Governor Serhiy Haidai said on Ukrainian television.
"The superiority in fire power of the occupiers is still very much in evidence," Zelenskyy said. "They have simply brought in all their reserves to hit us."
Russian forces have been trying to encircle Lysychansk since they captured Sievierodonetsk, on the opposite side of the Siverskyi Donets River, last week after weeks of heavy fighting.
Ukrainian forces in the "south" district of the joint command of the Ukrainian armed forces killed 35 Russian servicemen and put out of action two tanks and four armoured vehicles, according to a Ukrainian military statement on Facebook on Friday.
"The Ukrainian armed forces are not only holding defence lines but also engaging in successful operations aimed at liberating occupied towns in Kherson region from the invaders," Kriviy Rih regional Governor Oleksandr Vilkul said on Telegram, adding Ukrainian troops had taken back the town of Potyomkin.
The battlefield claims could not immediately be verified.
New 'iron curtain' coming down, says Lavrov
NATO leaders meeting in Madrid this week pledged to back Ukraine for as long as necessary, modernising the country's army to help it resist Russia's invasion. The military alliance also updated its strategic plan to name Russia as the biggest "direct threat" to Western security.
NATO has also approved membership applications from Finland and Sweden and announced a massive boost in troop numbers along its eastern flank.
Several NATO member states have announced new military aid for Ukraine: British Prime Minister Boris Johnson has pledged an extra £1 billion (€1.16 billion) and US President Joe Biden has pledged a further $800 million (€765 million).
French President Emmanuel Macron spoke of a shake-up in military planning in his country, stressing that "we must now, entering a period of war, know how to produce certain types of equipment faster and stronger".
Vladimir Putin condemned what he called NATO's "imperialist ambitions", while Russian Foreign Minister Sergei Lavrov said a new "iron curtain" was coming down — a reference to the political division between Western countries and the Soviet Union during the Cold War.
The United Nations said on Thursday that some 16 million Ukrainians require humanitarian aid and more than six million are internally displaced.