US first lady Jill Biden pays surprise Mother's Day visit to Ukraine
Comments
By Euronews with AP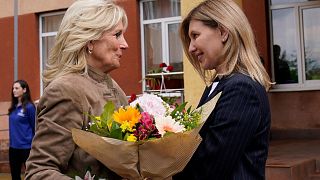 -
Copyright

AP Photo/Susan Walsh, Pool
US first lady Jill Biden made an unannounced visit to western Ukraine on Sunday, holding a surprise Mother's Day meeting with Ukrainian first lady, Olena Zelenska.
Biden traveled under the cloak of secrecy, becoming the latest high-profile American to enter Ukraine during its 10-week-old conflict with Russia.
"I wanted to come on Mother's Day," Biden told Zelenska. "I thought it was important to show the Ukrainian people that this war has to stop and this war has been brutal and that the people of the United States stand with the people of Ukraine."
The first lady traveled by vehicle to the town of Uzhhorod, about a 10-minute drive from a Slovakian village that borders Ukraine. She spent about two hours in Ukraine.
The two came together in a small classroom, sitting across a table from one another and talking before reporters, before then meeting in private. Zelenska and her children have been at an undisclosed location for their safety.
Zelenska thanked Biden for her "courageous act" and said, "We understand what it takes for the US first lady to come here during a war when military actions are taking place every day, where the air sirens are happening every day -- even today."
The school where they met has been turned into transitional housing for Ukrainian migrants from elsewhere in the country.
The visit allowed Biden to conduct the kind of personal diplomacy that her husband would like to be doing himself.
President Joe Biden said during his visit to Poland in March that he was disappointed he could not visit Ukraine to see conditions "firsthand" but that he was not allowed, likely due to security reasons. The White House said as recently as last week that the president "would love to visit" but there were no plans for him to do so at this time.
The meeting came about after the two first ladies exchanged correspondence in recent weeks, according to US officials who declined to provide further details because they were not authorised to discuss the ladies' private communications.
As she arrived at the school, Biden, who was wearing a Mother's Day corsage that was a gift from her husband, embraced Zelenska and presented her with a bouquet.
After their private meeting, the two joined a group of children who live at the school in making tissue-paper bears to give as Mother's Day gifts.