Azerbaijan claims it has seized key city in Nagorno-Karabakh
Comments
By AP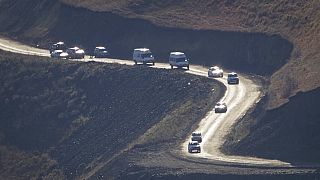 -
Azerbaijan claimed on Sunday that its forces have taken control of the strategically key city of Shusha/Shushi in the Nagorno-Karabakh region where fighting with Armenian forces has raged for more than a month.
In a televised address to the nation, Azeri president Ilham Aliyev said: "Shusha is ours — Karabakh is ours," using the Azerbaijani version of the city's name.
This Azeri claim has not been confirmed by independent channels.
Armenian Defence Ministry spokesman Artsrun Ovannisian said late Sunday that fighting in and around Shusha/Shushi was continuing.
"Neither side fully owns the initiative," he said.
Taking Shusha/Shushi would be a decisive turn in the hostilities between the two sides; it is strategically located on heights 10km south of the city known as Stepanakert for the Armenians and Khankendi to Azerbaijan in Nagorno-Karabakh.
It also has a huge symbolic value both for the Azeris and the Armenians.
The former Soviet states of Azerbaijan and Armenia fought a bloody war over the mountainous region of Nagorno-Karabakh in the early 1990s.
Thousands were killed on both sides. Hundreds of thousands of people were displaced.
The war ended with a truce in 1994, although there has been sporadic violence since then as the conflict remains unresolved.
The latest flare-up of violence started on September 27 and has left hundreds — if not thousands — dead.