UK Chancellor Rishi Sunak slashes VAT on tourism and hospitality from 20% to 5% until January
Comments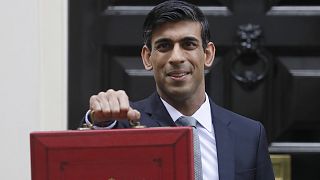 -
The UK Chancellor Rishi Sunak has announced cuts to VAT worth over £4 billion (€4.4 billion) as a lifeline for the struggling British tourism and hospitality sector.
In his summer statement to the House of Commons on Wednesday, the Chancellor told MPs that VAT will be slashed from 20 per cent to 5 per cent until January.
Sunak announced the measures in a bid to get two of the sectors hardest hit by the COVID-19 pandemic to get back on its feet, saying he wanted to see pubs, restaurants, cafes, and B&Bs "bustling again."
The cuts will apply to food, attractions (including zoos and cinemas) and accommodation for the next six months. The cuts will be complemented by a 50% "eat out to help out" discount on eating in restaurants and cafes which will run from Monday to Wednesday throughout August.
However, hospitality worker Hannah who was made redundant this month says "Many people can't afford to eat, let alone dine out!" She says the Chancellor's move has been too little, too late and if this had been introduced sooner, her job might have been saved: "it's really just adding insult to injury for those of us who have already been made redundant after months without a wage."
Addressing the Commons, Sunak said: "This has never just been a question of economics, but of values: I believe in the British people's fortitude and endurance."
"And it is that value, endurance, more than any other, we need to embody now," he says.
"We will not be defined by the crisis but our response to it."
He added that the measures were "a plan to turn our national recovery into millions of stories of personal renewal."
Other measures outlined include a £2 billion (€2.2 billion) youth job creation scheme, with the government looking to fund 350,000 paid six-month job placements for young people.
Sunak also announced the doubling of the number of work coaches at Job Centres across the UK in a bid to stop unemployment rising further as a consequence of the coronavirus pandemic.
The Treasury has also proposed a £1,000 (€1,100) bonus for employers for each member of staff currently furloughed - some 9.4 million across the UK - who return to work.
Charlotte Gattward, Managing director of Gattwards of Hitchin, the UK's oldest family-run jewellers has mixed feelings about today's announcement, stating: "we are disappointed that the VAT cut did not extend to retail which has been hard hit by the pandemic."
She continues: "We do have a number of team members still on furlough though and so the £1,000 bonus for un-furloughing team members will be helpful although without a crystal ball we just don't know how quickly business will pick up."
The government also announced a cut in stamp duty to stimulate the stagnating housing market, temporarily raising the threshold from £125,000 to £500,000 (€139,000 to €555,000) until March 31, 2021. Sarah Gardener, Partner and Head of Real Estate & Construction for Shaw Gibbs says: "It is estimated that almost one in 10 sales will now be immediately Stamp Duty free."
She adds, "Despite the huge shock the sector has suffered as a result of the suspension of trading during the COVID-19 lockdown, these early weeks indicate that the residential property market is making a steady recovery."
"There is a quiet optimism amongst those in the profession and this announcement should only help to sustain the recovery further."
Responding to the Chancellor's statement, Labour's Shadow Chancellor, Annelise Dodds blasted the government for not announcing a "back to work Budget," adding, "It has taken them almost 10 years to catch up."
She also urged the government to "recognise the challenge faced by old job seekers who are facing unemployment for the first time."