Two missing and hundreds of homes flooded as storms hit southeast France
Comments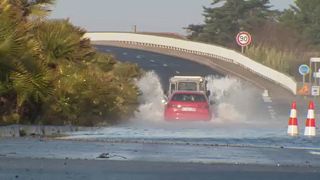 Two missing people, at least two injured and hundreds of homes flooded: heavy rain and storms hit the departments of Alpes-Maritimes and Var, in southeast France. The regions were put on red alert for storms and flooding on Saturday, and downgraded to orange alert on Sunday morning, according to Météo France.
Several cities in Var had to be evacuated due to the risk of flooding, in particular Roquebrune sur Argens (Var). In Biot (Alpes-Maritimes), the mayor has asked the inhabitants to remain indoors. At 8pm on Saturday, over 4,000 households were without electricity in the Alpes-Maritimes and Var, according to Enedis.
Two persons were reported missing in Var: A 77-year-old man all day in Saint-Antonin-du-Var, and a person who fell into the water at Le Muy when he was on board of a lifeboat with three firefighters and three other civilians. In Cagnes-sur-mer (Alpes-Maritimes), nearly 30 firemen were sent to help a 78-year-old man who was victim of a landslide.
On Sunday morning, Météo-France downgraded the alert of the two southeast departments from red to orange. "The rain continues but is less intense," says the weather monitoring agency.
The department of Puy-de-Dôme has been put on orange alert for floods, as well as the regions of Gard and Bouches-du-Rhône, according to Météo France.
The fire brigade -with more than 1,600 people deployed in the two departments- has received thousands of calls and has carried out hundreds of interventions since Friday.
Italian regions of Piedmont and Liguria hit by rain
In Italy, Genoa and the other parts of the Liguria region endured heavy rainfall overnight and remained on red alert on Sunday.
The heavy rain caused Fegino and Ruscarolo rivers to overflow.
Rail transport has been suspended between Alessandria and Savona (Liguria) for damage caused by bad weather. Some regional trains have been cancelled and Trenitalia has activated a replacement service.
In Genoa Cogoleto, in the locality of Beuca, 400 people are temporarily isolated due to a landslide on the road.