Doctor and independent Moses Elisaf is Greece's first Jewish mayor
Comments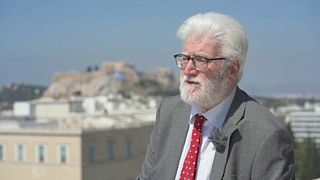 Doctor, academic and independent politician Moses Elisaf, who is Professor of Pathology at the University of Ioannina in north West Greece and president of the city's Jewish community, is the newly elected Mayor of Ioannina.
Without the support of any of the main political parties, Elisaf overturned predictions and won the support of his city's fellow voters. He told Euronews that he came to change everything in the governance of the municipality to improve the everyday living conditions for local citizens, from Ioannina's road network and cleanliness to town squares and playgrounds.
"I think it's clearly a symbolic act. The citizens of Ioannina proved that, contrary to stereotypes, intolerance and anti-Semitism, they chose an Ioannina Jew as their Mayor, an Ioannina resident who lived and grew up in Ioannina, but had a Jewish religion. They did not assess me based on my religious identity, but on my personality and the political lineup that we created, along with the proposals we submitted during the pre-election campaign and our candidates - as should happen in every case," he said.
Euronews asked how him significant this is in a Europe where ghosts of the past are returning.
"I think it has a significance and that is why there is a particular emphasis in our common home in Europe, where the ghosts of the past are being revived, with intolerance, racism and preconceptions. The citizens of Ioannina sent a very good message," he added.