EPP candidate Manfred Weber outlines vision in race to EC presidency
Comments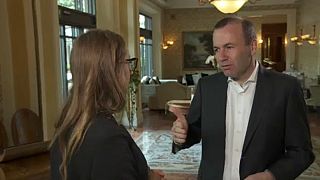 Manfred Weber, the European People's Party candidate to succeed Jean-Claude Juncker as European Commission President spoke to Euronews correspondent Elena Cavallone on the sidelines of the Florence debate between the four main candidates vying for the top European job.
"Nationalism is back in Europe. Those who ask for egoistic perspective have a loud voice currently in the debate. Brexit: It is a tragedy, but it helps us also, because people see what happens if you vote for populism, if you vote for leaving the European Union, it gives us a clear indication that it's a thousand times better to reform Europe, what I want to do, than to leave or even destroy the European Union," he said.
Manfred Weber also referred to the crises of the last decade, saying we need a new starting point for brighter days in the future.
"We experienced in the last decade, in the last 10 years, three big moments of a crisis. It was the Euro crisis, it was the migration crisis, it was the Brexit. All of these three things occupied a lot of our capacity and we have to stop this period of crisis management and we have to open a new chapter of optimism for the future," he added.
And according to public opinion polls, Manfred Weber is considered the favourite to win elections at the end of the month.
Last week, Manfred Weber inaugurated his pre-Euro-election campaign from Greece. Speaking to Euronews' Greek service, he reiterated that Turkey cannot be part of the European Union.