Dozens face jail after Austrian cash machine dispenses €50 instead of €20 notes
Comments
By Kirsten Ripper, Alice Tidey & DPA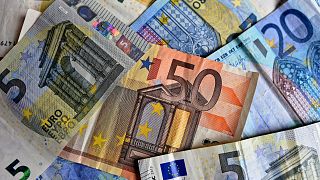 A mix-up with an Austrian cash machine could lead to 84 people facing charges of embezzlement, authorities announced on Tuesday.
Police in Lower Austria revealed that an employee at a bank in Stockerau, some 30 kilometres north of Vienna, inadvertently filled the €20-bill tray of a cash machine with €50 bank notes.
"This circumstance may have been exploited by customers when withdrawing, by constantly asking for €20 to actually receive €50, until the limit was reached," police said in a statement.
"As a result ... the bank has incurred losses amounting to a low five-digit sum," it added.
Authorities said that customers who failed to immediately report the issue and then knowingly misused the machine could face charges of embezzlement. 
So far 84 people have been referred to the prosecutor's office.
Police spokesman Walter Schwarzenecker told Euronews that if found guilty, they could be sentenced to up to three years in jail.