Belgium colonial museum reopens amid DRC's demand for return of artifacts
Comments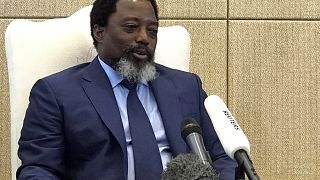 -
Belgium's Africa Museum's reopening after a ten-year "decolonisation" project led to calls from the Democratic Republic of Congo for its artifacts to be given back.
The museum in Tervuren, just outside Brussels - is a former colonial institution that holds a large collection of African artifacts and art. It reopened on Saturday after a €66million refurbishment.
President of the DRC Joseph Kabila's demands followed French President Emmanuel Macron's plan to return colonial-era art to the country.
The DRC is a former colony which was under Belgium's control between 1885 and 1960. A number of Congolese pieces were taken by soldiers and explorers during that time.
"The request for restitution will obviously be on the table," said Joseph Kabila, the President of the Democratic Republic of the Congo in an interview with Belgian newspaper Le Soir.
"We are waiting for the end of the works and the opening of our own museum. One month before the end of the work, which is scheduled for the month of June, there will be an official request [for restitution]."
Before the revamp, the museum, which is set in a palatial, neoclassical building in a park, was full of stuffed wildlife and artifacts and was criticised for ignoring King Leopold II's brutalities - his troops collected hands of those that resisted slave labour during a time when millions of Congolese are said to have died. 
Some of the works remain but the transformed museum now features video commentary and displays by Congolese artists.
"We also assume our responsibility that for more than 60 years, we've diffused, we've disseminated an image of a superior, western way of thinking to African cultures," said museum Director Guido Gryseels.
Only one room is themed on colonial history, rather than dominating the whole museum.
But critics say that by keeping stolen artifacts, the museum still represents a continuation of colonialism.
"There is no decolonisation without restitution," said DRC born Mireille-Tsheusi Robert, who now lives in Belgium - where she wrote a book on racism.
The museum, previously called the Museum of the Congo and the Royal Museum for Central Africa, said it would consider the DRC's request.
Gryseels said the museum would consider DRC's request and is open to returning some artifacts.