German doctors say Pussy Riot activist was probably poisoned
Comments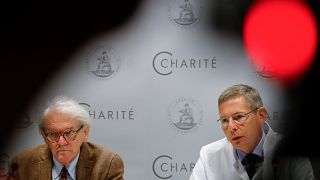 A young activist with the Russian protest group Pussy Riot was probably poisoned his medical staff say, but his life is not in danger.
Pyotr Verzilov arrived in Berlin for treatment at the Charite Hsopital on Satruday having lost his sight, his hearing and his ability to walk.
"His condition is not life threatening. His critical state has improved a lot," Professor Einhaeupl, who works in intensive care at Charite Hospital, said on Tuesday.
Verzilov is the publisher of Mediazona, an online news outlet that focuses on human rights violations inside Russia's penal system.
He ran on to the pitch during the World Cup final in Moscow in July along with three women connected to Pussy Riot.
In 2012 three Pussy Riot activists were jailed for staging a protest against Russian President Vladimir Putin in a cathedral in Moscow.
The group has since become a symbol of opposition to Putin's grip on power.