1 in 3 news articles shared about Sweden election are fake, finds study
Comments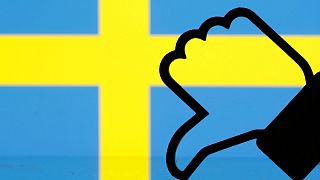 Copyright

REUTERS/Dado Ruvic/Illustration
One in three news articles shared on Twitter about Sweden's upcoming election is from "junk news" websites that publish deliberately misleading information, according to a study published Thursday by the Oxford Internet Institute.
Researchers noted that they had only seen the ratio of junk news to professionally-produced news observed in Sweden during the contentious 2016 US presidential election.
The level of "junk news" shared in Sweden was significantly higher than in any European election they had studied, including two votes in Germany and the UK's Brexit referendum.
"It was honestly not what we had expected to see in Sweden, which we think of as a highly educated and also a highly digitally literate country," co-author Lisa-Maria Neudert told Euronews.
What is 'junk news'?
The Institute analysed almost 275,000 tweets about the Swedish election over a 10-day period in August to determine how much "junk news" was being shared.
Neudert said junk news meant sources "deliberately publishing and feeding us deceptive information, and purporting to be real news about, for example, politics."
"We're calling it 'junk news' rather than fake news because we think that fake news is too contentious a concept that has also been used to weaponise and discredit media on both sides of the spectrum," she added.
The researchers labelled certain websites "junk news" if they met detailed criteria laid out in at least three of five categories — professionalism, style, credibility, bias and counterfeit.
Where is it coming from and what is it saying?
The study found that most of the misinformation was homegrown, with eight of the top 10 "junk news" sources being of Swedish origin.
The three most popular sources were all found to have links to the populist right-wing Sweden Democrats party.
"The majority of the content was somehow related to issues of immigration, to issues surrounding Islamophobia, to issues surrounding xenophobia," Neudert told Euronews.
"Specifically in Europe, issues surrounding immigration really seem to be what triggers 'junk news', what triggers misinformation and also, of course, what triggers a big response," she said.
While surprised by the level of misinformation being spread, Neudert said she believed the "main explanation is that the Sweden Democrats, which are a big party right now in Sweden, are really able to capture and maybe also inflate some of the biases and some of the hesitation already existing within the Swedish population."
Will it actually have an impact on the vote?
It is not clear whether the sharing of "junk news" has affected voting intentions for Sweden's election on Sunday.
However, Neudert noted that even a small effect can be significant.
"The two instances where we know we did have Russian interference...and a lot of misinformation that was being purposefully disseminated was in the US and in the UK Brexit referendum. And those are both two elections that have been won by a [small] margin. So even if you only have a very small effect, it may have been the effect that could have swayed the elections," she said.
Euronews has contacted Twitter for comment on the study.