Russian TV launches weekly show hailing Putin
Comments
By Naira Davlashyan & Alice Tidey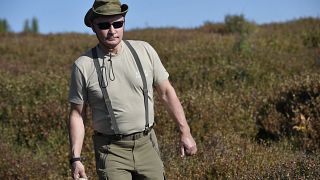 Vladimir Putin's "love of children" and "great physique" were some of the topics discussed in a new Russian state-television show entirely dedicated to the president's image.
The inaugural episode of the weekly "Moscow. The Kremlin. Putin" show aired in prime time on Sunday on Rossiya-1, just hours after thousands across the country protested a pension reform.
But the unpopular reform, which has hit Putin in his popularity rating, barely got a mention beyond how relentlessly the leader had worked, until the very last moment, to find a compromise.
Pension tension
The reform will see the minimum retirement age raised from 55 to 60 for women and from 60 to 65 for men.
Ninety percent of Russians are against it and 50% are willing to take part in further protest according to the Levada Centre — a Moscow-based independent pollster.
Since the reform was proposed, Putin's approval rating have slipped 10 points, according to the pollster, although they remain at 70%.
Last week, in an effort to appease the public, Putin made a televised address in which he took personal responsibility for the reform and warned it was necessary to avoid economic collapse.
'He is a very human person'
The show focused instead on Putin's recent holidays in Siberia with Kremlin spokesman Dmitry Peskov on hand to comment and offer insights.
"This is wild nature, there are bears there," Peskov said.
"Bodyguards are armed in an appropriate manner, just in case. Although if a bear sees Putin — they aren't idiots — they will behave themselves properly," he added.
Last week's agenda was also discussed including a visit to the Sirius Centre for Gifted Children.
"It is evident that Putin loves children. He has a very human, sincere attitude towards children" the show's anchor, Vladimir Solovyov, commented at this point.
To which Peskov replied: "Putin not only loves children, he likes people in general. He is a very human person."