Photo festival in France celebrates work of foreign photographers in the US
Comments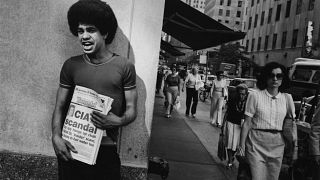 On the 60th anniversary of Robert Frank's iconic book 'The Americans', taken at a time when the US seemed to be closing its doors to many, 'Les Rencontres d'Arles' festival invites you to take a look at the work of foreign photographers in the USA. Their heritage has become a cultural phenomenon in its own right.
Rencontres d'Arles is one of the biggest photography events in Europe, taking place in Arles in the south of France. Around 125,000 people visit the festival from July through September each year. Some 50 artists exhibit their work in the different venues of the ancient Roman town.
The shows of Frank, from Switzerland, and France's Raymond Depardon offer iconic and also some previously unpublished photographs from the artists. The work of British photographer Paul Graham, who chronicled socio-economic divisions across present-day America using often audacious photographic techniques, is also present at Arles this year.
Euronews talked to the director of the festival, Sam Stourdze, who told us more about these exhibitions.