Watch: Animals take to scales in annual weigh-in
Comments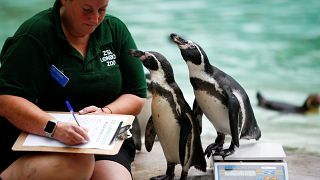 The animals at Whipsnade Zoo in Bedfordshire and London Zoo have been stepping on the weighing scales this week.
Thousands of animals took to the scales at both zoos, with the annual weigh-in providing measurements for zookeepers and researchers alike, as well as an adorable spectacle for onlookers.
The data gathered at weigh-ins is shared among academics and zoologists worldwide in order to aid in conservation work, creating a shared database.
London Zoo's Mark Habben noted that the annual weigh-in is crutial to traking the health of the zoo's inhabitants, making sure all animals are in a healthy condition and detecting pregnancies.
The weight of an animal can be "a good indicator of health," according to Habben.
Following a weigh-in, the zoo can consult the database to compare the weight of a particular species of animal.
This, along with other parameters, can allow zookeepers to make dietary changes should an animal need it.
Taking penguins as an example, Habben said that when a species goes through a malting period, the zoologists make sure that they have enough food in order to ensure that "they're malting out all their feathers quickly enough and growing them again, so it's really important".
London Zoo's largest animal, Eilish the giraffe, weighed 836kg and 13.5 feet (4.1 metres). The smallest creature at the zoo is the leafcutter ants.
Zookeepers used food to lure some of the animals onto the scales.
In July this year, London Zoo welcomed a tiny penguin to their zoo.
The zoo announced that it managed to save the premature penguin after its parents accidentally cracked its egg before it had hatched.
The penguin, known as Rainbow, spent a few weeks warming in an incubator, cuddling a toy penguin and being fed a "penguin milkshake" made of blended fish, vitamins and minerals