More than 2 million pilgrims take part in Hajj
Comments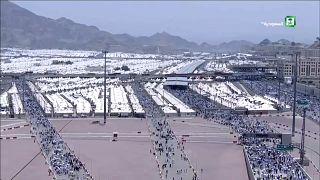 More than 2 million Muslim pilgrims hurled pebbles at a giant wall in a symbolic stoning of the devil on Tuesday.
It's the riskiest stage of the annual haj pilgrimage in Saudi Arabia where hundreds died in a crush three years ago.
Clad in white robes signifying a state of purity, men and women from 165 countries perform the ritual from a three-storey bridge erected to ease congestion after earlier stampedes.
And the country's monarchy has installed more than 100,000 security personnel to maintain order.
The area was redesigned after stampedes in 2004 and 2006 killed hundreds of pilgrims.
They will return to the bridge over the next two days for more stoning before returning to Mecca to pray at the Grand Mosque at the end of haj.