Taliban rockets interrupt Afghan's president's holiday speech
Comments
By Associated Press with NBC News World News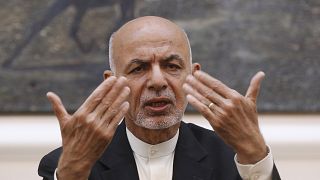 -
KABUL, Afghanistan — The Taliban fired a pair of rockets toward the presidential palace in Kabul on Tuesday as the Afghan president was delivering his holiday message for the Muslim celebrations of Eid al-Adha, police said. No injuries were reported.
The first rocket landed somewhere near the presidency, the second near a NATO compound and the U.S. Embassy in Kabul, police official Jan Agha said.
World news
The boom of the rockets was heard in the live broadcast of President Ashraf Ghani's speech. As he also heard the thud, Ghani interrupted his message to say: "If they are thinking the rocket attack will keep Afghans down, they are wrong."
There was no immediate statement from the Taliban, or a claim of responsibility for the attack by any other militant group, but the assault on the major Muslim holiday sent a stark message.
It was also another blow to Ghani's efforts to bring the insurgents to the negotiation table and hold peace talks to end the country's 17-year war.
The area where the rockets hit is one of the most secure in the heavily fortified part of Kabul, where embassies and Afghan government buildings are surrounded by high cement blast walls and coils of razor wire. Many streets near the U.S. Embassy are closed off, as well as those near sensitive government and military locations.
Kabul police spokesman Hashmat Stanekzia said Afghan police had noticed a suspicious vehicle earlier on Tuesday morning and followed it to a house near the sprawling Eid Gah mosque where hundreds had gathered to offer their prayers for the Eid al-Adha holiday.
Once inside the house, the suspects are believed to have fired the rockets, Stanekzia told The Associated Press. A helicopter gunship was called in and bombed the location, destroying the house and the vehicle.
On Sunday, Ghani had offered a conditional cease-fire to last during the holiday, saying it would only take effect if the Taliban reciprocated.
Military
The Taliban have been at war with the U.S.-backed Afghan government for nearly 17 years, and have stepped up attacks in recent months, seizing rural districts and carrying out major assaults against security forces and government compounds on an almost daily basis.
On Monday, Afghan forces rescued nearly 150 people, including women and children, just hours after the Taliban ambushed a convoy of buses and abducted passengers in northern Kunduz province.