Zoo dumps plastic waste in aquarium to highlight ocean pollution problem
Comments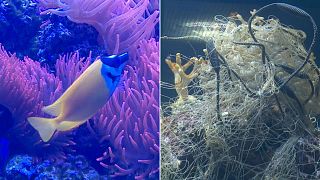 A zoo in Hungary has tipped plastic waste into an aquarium to draw attention to the destructive impact of ocean pollution.
Yoghurt pots, plastic bags, fishing nets and flippers are just some of the pieces of rubbish staff at Pecs Zoo have dumped in their empty tank, which is normally home to thriving fish, coral, and other marine creatures.
The wildlife park in southern Hungary, near Croatia, has sparked controversy with the move, which they hope will educate visitors on the havoc plastic waste causes to marine wildlife when they swallow or become tangled in it.
"According to estimates, about eight to nine million tons of plastic waste ends up in the oceans annually," said Zoo "pedagogue" Antal Nagy.
"Two million cigarette stubs, several hundred thousand plastic bottles and hundreds of thousands of plastic bags are thrown into the seas every day."
The installation will remain on display until September.