Yazidi former slave girl flees Germany after confrontation with captor
Comments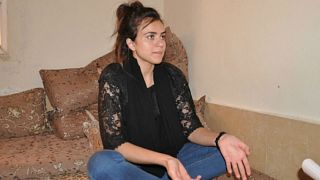 A Yazidi refugee who was enslaved by ISIL has fled Germany for Iraq after again coming face-to-face with her captor.
Ashwaq Ta'lo was 15 years old when her whole family was rounded up in an ISIL attack on northern Iraq four years ago.
After being sold for $100 (€87.69) to a Syrian ISIL guard, she eventually managed to escape to Germany where she was reunited with her mother and other family members and believed she was safe.
She told Euronews about the moment she came face-to-face again with the man who sold her.
'After I saw the man, I couldn't live in Germany anymore'
Ashwaq first saw Abu Humam in Germany two years ago, but initially thought she must have made a mistake.
She was doing an internship for her school in February 2018 when they crossed paths again: "The first day at work was okay, I was getting to know my colleagues," she said.
It was on the second day while taking a break at midday that she saw Humam, who is thought to have registered as a refugee in Stuttgart.
"He was with another man in a car, I know it was a white car," said Ashwaq.
The man recognised her and started speaking German, she tried to deny she knew him but he persisted, revealing he knew details about her life.
"Don't lie to me!" Humam said in Arabic. "I know for certain that you are Ashwaq and I know who you live with, who you are with, what street you live in, what school you go to."
The teenager was so afraid she decided to flee the country. "I couldn't live in Germany any more. I was so terrified, I could not stay in Germany," she said.
Ashwaq decided to leave Germany for Kurdistan, where her father lives, believing that she would be safer there.
'Of course, we would arrest someone like this immediately if we could'
Ashwaq went to the police after telling her brother about the incident but they were not able to identify the man.
Frauke Köhler, public prosecutor at the Federal Court of Justice in Karlsruhe, told Euronews' Johannes Pleschberger that the information provided was not sufficient to identify anyone, as Ashwaq just gave a name that does not exist in police records.
"Of course we would arrest someone like this immediately if we could," said Köhler, but explained Ashwaq came to the police five days after the incident and had already left the country when the Federal Prosecutor's Office took over the investigation.
The fact the teenager is now outside Germany makes proceedings more difficult. The Federal Prosecutor's Office's "powers are limited to the territory of the Federal Republic of Germany", explained Köhler, so evidence must be requested via foreign prosecution authorities.
The State Ministry of Baden-Württemberg alone has brought around 1,000 Yazidi women and children to Germany, who they are now questioning together with the Federal Criminal Police Office to secure evidence "in the event that those responsible for the attacks against the Yazidi population are brought to justice".
As for Ashwaq, she remains in Iraq: "I was so happy that I lived in Germany," she said, "But after I saw the man, I couldn't live in Germany any more. I was so terrified."
This story was first reported by BasNews' Barham Ali