Watch: Rhino attacks vehicle at safari park
Comments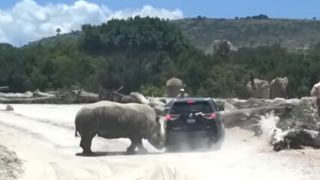 This is the terrifying moment a rhino attacked a vehicle at a safari park in Mexico.
The animal is seen jabbing its horn underneath the sports utility vehicle and lifting its wheels off the ground.
The footage, filmed from the car behind, shows the rhino appeared to push the car away as zookeepers scramble to deal with the situation.
A family was believed to be inside the vehicle during the attack at Africam Safari in Puebla on Monday, July 30.
Josue Fernando Gonzalez, who witnessed the incident, told Reuters in an email that they first saw the rhino running towards some zebras and later charged the van; zookeepers let the cars out before closing the enclosure.
According to a statement by Africam Safari, the male rhino's aggressive behaviour was due to the presence of a female rhino nearby, and that this was an "isolated case".
Local media reported no one was injured and that the rhino is now in a different section.