'World's largest Arabic lesson' held in Tel Aviv in response to nation-state law
Comments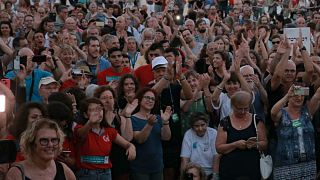 Thousands of people gathered in Tel Aviv this week for what has been dubbed the "world's largest Arabic lesson", held in response to a controversial new law that removed Arabic's status as an official language in the country.
The "nation-state" law, passed on July 18, declared Hebrew the language of the state and gave Arabic a "special status".
May Arow, a language director at the Abraham Initiatives Fund who led the mass lesson, said the law "affects the Arabic language in a very bad way".
The event sought to offer a "creative way instead of a violent way" of responding to the legislation, she told Euronews.
Arow said participants at the event in Tel Aviv's Habima Square were keen to get involved, enthusiastically repeating words back to her.
"They were not there only to listen and to stand there," she said.
During her lesson, Arow said she taught the crowd "magic words" used in everyday life.
She said the message of the event was: "If you care, learn Arabic, don't care about what the law says".
The "nation-state" law, which declares that only Jews have the right to self-determination in Israel, was celebrated as a "defining moment" by its supporters but sparked criticism around the world.
Israel's Arab citizens number some 1.8 million, about 20% of the 9 million population.