Refugee girls put on fashion show for own clothing label in Jordan
Comments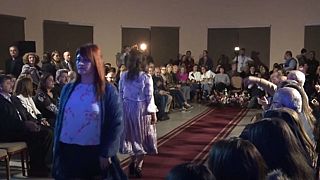 Iraqi refugee girls put on a fashion show in the capital of Jordan, Amman, on Wednesday featuring clothes that they sewed themselves.
The girls belong to a clothing label called "Rafedin — Made by Iraqi girls," which was founded in 2016.
In collaboration with Italian designers and tailors, an Italian priest based in Jordan, Mario Cornioli, started the project. Together, they taught the girls to sew, helping them to make a living.
"Life in Jordan is not easy for refugees," Cornioli told the Latin Patriarchate of Jerusalem. "They are not allowed to work, and cannot easily access health and educational services. A project like this is a good way to come out of idleness which withholds you while away from home, living under hard conditions."
Hadeel Lacour, one refugee whose home was destroyed by extremist groups in Mosul, and a member of Rafedin, said she hopes to be an interior designer or jewellery designer with the help of the experience.
"Actually this project brings to me, first of all, patience, because when we make a piece of clothes, we have to be patient, and also, add to my life new skills," she said.
According to the Latin Patriarchate of Jerusalem, nearly 1000 volunteers help with the organisation.