Ethiopian prime minister escapes fatal grenade attack
Comments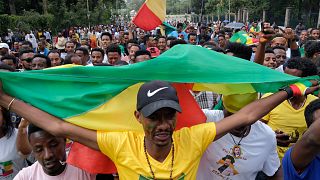 One person has died and scores are wounded in a grenade attack a rally for Ethiopia's new PM Abiy Ahmed on Saturday.
Thousands of people attended the event in Addis Ababa.
Local media reported that several people were hurt and quoted a police officer who described it as a "minor explosion."
Eight suspects are being investigated and the deputy commissioner of the Addis Ababa Police Commission has been arrested and is being investigated for shortcomings in security.
Abiy said the attack was an unsuccessful attempt by forces who do not want to see the country united. He was immediately taken away to safety after the blast, which is thought to have been a grenade.
Six suspects are being investigated in connection to the
Ethiopia has suffered years of protests that have sometimes turned violent.