3 dead, 200 hurt as earthquake shakes Japan
Comments
By Linda Givetash and Arata Yamamoto and Associated Press with NBC News World News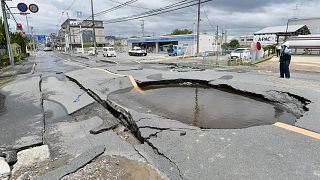 -
TOKYO — A child and two elderly men were killed by a strong earthquake that struck a bustling metropolitan area in western Japan on Monday.
The magnitude 6.1 quake brought down walls in Osaka and surrounding areas and raised fears of landslides, the Japanese Meteorological Agency said.
More than 200 other people were injured.
Meteorological agency official Toshiyuki Matsumori warned aftershock tremors are expected and could occur for up to three days after the initial quake.
"Unless it's absolutely necessary, everyone should avoid entering dangerous areas and take precautions to ensure your own personal safety," he told Japanese broadcaster NHK.
The three victims included a nine-year-old girl who died when a school wall made of concrete blocks partially collapsed in Takatsuki City. A man aged in his 80s was killed by a collapsing brick wall in Osaka City while another man in his 80s died after being struck by a bookshelf in his home in Ibaraki City.
The earthquake reminded many in Japan of the magnitude 7.3 Hanshin-Kobe quake in 1995 that killed more than 6,000 people in the same region.
Monday's quake also followed a series of smaller quakes near Tokyo in recent weeks.
Linda Givetash reported from London, and Arata Yamamoto from Tokyo.