Watch: Aquarius migrants express their joy at arriving in Spain
Comments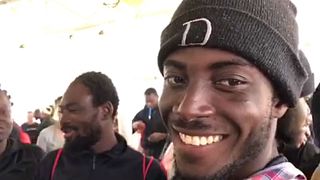 Migrants that were on board the Aquarius rescue ship told Euronews' Anelise Borges of their relief at disembarking the vessel in Valencia, Spain.
This is the first time most on board will have set foot on dry land in over a week after a 1,300km-long ordeal.
As many as 1,000 Red Cross workers were on hand at the port to greet the migrants as they arrived in Valencia.
Around 450 national police and civil guards, as well as 400 translators were also on hand.
One man was hopeful about the prospect of a new life in Spain, where the migrants can apply for asylum, along with the possibility of seeking asylum in France, providing they had a legitimate claim.
"I think I'm going to take my destiny in Spain and I'm going to feel like myself here," he said.
All the migrants will get special 45-day humanitarian permits to stay, and asylum requests will be assessed, Spain has said.
Another female passenger said she was "very, very happy", but that she was still "a bit" nervous.
The Aquarius sparked a major diplomatic row when it was left stranded on Monday after Italy refused to let it dock.
Anelise Borges was aboard the vessel and has been following developments and the situation onboard.