Italians march in solidarity with migrant workers
Comments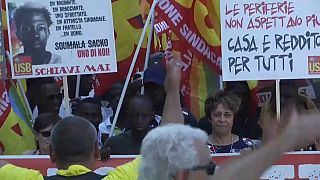 Thousands of demonstrators took to the streets of Rome on Saturday calling for greater rights for migrant workers.
The rally was called by the USB labor union after the death of one of its activists, Soumayla Sacko, a 29-year-old legal migrant from Mali.
He was allegedly murdered earlier this month as he helped fellow migrant workers build shelters in southern Italy's Calabria region.
A local farmer has been arrested in connection with the killing.
The USB called on the new Italian government to improve what it called the slave-like conditions of migrant workers in the agriculture and food sectors.
The protest comes amid a crackdown on migrants by the new Italian government.
The new Interior Minister, far right League leader Matteo Salvini, has pledged to expel illegal immigrants from the country.