Two Italian ships will escort the Aquarius vessel full of 629 migrants to Spain
Comments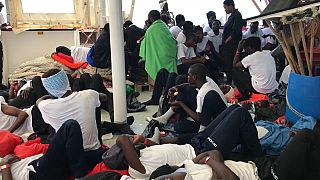 Two Italian ships will help escort the Aquarius vessel full of 629 migrants to Spain.
They will also take 500 people off the ship to ease the overcrowding and the Italian coast guard will deliver supplies for the remainder of the trip.
Our Euronews reporter Anelise Borges sent a tweet confirming the details.
Anelise adds in a second tweet that crew are busy cleaning the main deck to receive supplies.
It's after Italy and Malta refused to let the ship dock in their ports even though these were the closest countries.
But Spain's new Prime Minister, Pedro Sanchez agreed the Aquarius can dock at Valencia.
The migrants were rescued by Italian coast guards off the coast of Libya on Saturday.