Greek PM faces backlash over Macedonia name recognition deal
Comments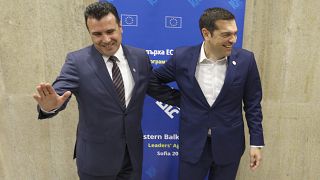 Greece agreed to recognise its northern neighbour as 'Republic of North Macedonia' on Tuesday, ending a decades-long dispute over the name of the former Yugoslav republic.
Now, Prime Minister Alexis Tsipras, who struck the deal, is facing backlash from right-wing opposition parties. New Democracy leader Kyriakos Mitsotakis called the deal "deeply problematic" on the grounds that a majority of Greeks were against the deal, and that Tsipras lacked the authority to sign it.
Under the deal, the Balkan state would be able to call itself the "Republic of Northern Macedonia" (formerly "Former Yugoslav Republic of Macedonia"). This title would allow for Skopje's eventual entry into NATO and the European Union, previously blocked by Greece because it says the use of the name "Macedonia" implies a territorial claim on a northern Greek province of the same name.
Tsipras in a televised address on Tuesday said he was turning Greece into "a leading power in the Balkans" and "a pillar of stability in a deeply wounded region".
The accord must still be approved by Macedonians and by the parliaments of both countries, which is expected to take several months and may be blocked by nationalists and right-wing parties.
One party official told Reuters the New Democracy party might submit a vote of no-confidence against the Tsipras administration.
"We have lost, we retreated," Stamatia Valtadorou, a private sector employee, told Reuters. "It's one thing to sell off a part of yourself for a bailout and a different thing to sell off your land, it hurts deeply."
Her sentiments explain the reasoning of upset Greeks who feel a part of their identity has been compromised with the newly closed deal.
In February, more than 100,000 protesters gathered in Athens to protest the name compromise, which was already in deliberations, chanting "Hands off Macedonia!" and "Macedonia belongs to Greece!" These protests continued last Wednesday, with tens of thousands of Greeks gathering in about 23 cities.
Macedonia's Prime Minister Zoran Zaev may also face backlash from President Gjorge Ivanov, who refused to listen to his briefing on the deal.
"President Ivanov ... left the meeting, refusing to talk about the achievements of this historical agreement," the government said in a statement.