Guatemalan's search for family is symbol of country's heartache
Comments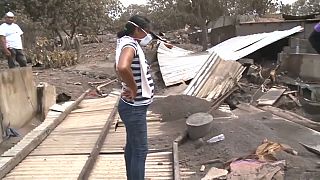 Searching the area of San Miguel Los Lotes, devastated by last week's Fuego Volcano, Eufemia Garcia has become Guatemala's symbol of pain and perseverance.
She's looking for the bodies of 50 family members, presumed to be underneath several metres of volcanic ash.
Eufemia has already buried her children and grandson.
She says; "I'm not going to give up until I have a part of my family and am able to give them a Christian burial. Even if it's just a few little bones, even if it's just a piece of cloth, I will give them a Christian burial. And I will know where their final resting place is. It is the majority of my family, there are 50 of mine who are gone."
Eufemia's family is one of the hardest hit in a disaster that officials admit has been made worse by various delays in warnings.
Formal search efforts have also been suspended till the still-erupting volcano stabilises.
At least 110 people have died since Fuego erupted last Sunday, with almost 200 more believed to be still buried beneath the waste.