Crack-smoking mayor's brother is elected leader of Canadian province
Comments
By Associated Press and Reuters with NBC News World News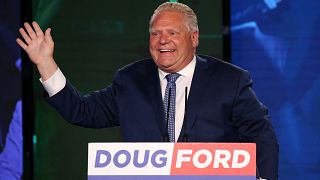 -
TORONTO — The new premier of Ontario is the brother of late Toronto Mayor Rob Ford, who became famous for smoking crack cocaine.
Doug Ford's Progressive Conservatives won Thursday's provincial election in Canada's most populous province.
"The party with the taxpayers' money is over — it's done," Doug Ford, 53, said in a speech to supporters.
Blunt and combative with the media, Doug Ford is a populist who has been compared to President Donald Trump.
Rob's Ford's tenure as mayor of the country's largest city was marred by revelations about his illegal drug use. Rob Ford died of cancer in 2016.
Incumbent Premier Kathleen Wynne's Liberal party had been in power for 15 years.
But by 5 a.m. ET on Friday, the Progressive Conservatives had won or were leading in 70 seats in the province's legislature, while the left-leaning New Democrats had 40 and Liberals just 7.
Doug Ford's election promises include income tax cuts and he strongly opposes a carbon tax.
With about a third of Canada's population of 36 million, Ontario is the country's economic engine.
Doug Ford, who served on Toronto's city council when his brother was mayor, has spent much of his life running the family's label business.
"It's hard to believe that someone who has never held office other than as a municipal councillor ... is elected to lead the largest economy in a G-7 country," said Jonathan Rose, a professor at Queen's University.
Doug Ford's campaign was hit with a series of controversies, including allegations from his brother's widow that he mismanaged the family business. He denied that claim.