Actor apologises after outcry over Kuwait 'blackface' comedy show
Comments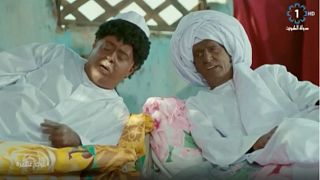 A Kuwaiti actor has apologised for his role in a TV show that has come under fire for using blackface in its depiction of Sudanese people.
Hasan al-Ballam took to Instagram to apologise for any offence caused by the episode of comedy show Block Ghashmarah, in which actors were "blacked-up" and portrayed Sudanese people to be lazy.
"There are some people who misunderstood me, and others went far beyond the limits to criticise me," he wrote.
"I apologise for anything I have said which caused harm to anyone, and from this moment on I will retire from performing impression parodies. I ask for forgiveness from everyone."
The satirical show, which has been airing over Ramadan, ridicules people from different countries in each episode.
The apology came amid outcry on social media over the show, with many accusing it of racism.
Twitter user Waleed M Yahia wrote in Arabic, the "amount of abuse towards my country Sudan in Arab drama is so shameful. The fact that our people are good, hospitable and gentle people does not mean to detract from it as simple as that."
Meanwhile, others defended the show, stressing that it was satire and saying it had succeeded in making people laugh.
"That's completely misleading! Kuwaitis have never had racism based on skin colour," one Twitter user wrote.