Italy's new populist government nears full confidence vote
Comments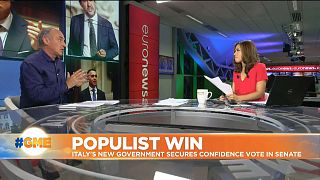 Italy's new populist government is just one step away from being fully in power, as the lower house of parliament starts debating a motion of confidence on the coalition cabinet headed by Giuseppe Conte.
The alliance between the far-right League and the anti-establishment Five Star Movement secured its first confidence vote in the Senate on Tuesday, winning by 171-117 in the 320-seat upper house.
All it needs now is Wednesday's vote in the Chamber of Deputies, which is expected to go smoothly as the coalition holds a more comfortable majority there.
In his first speech as prime minister, Conte promised to bring radical change to Italy, including a boost in welfare spending and a crackdown on immigration.
During his speech, he made no mention of the country's commitment to remaining in the eurozone, an issue which has rattled financial markets, but he addressed the subject at the end of the parliamentary debate – in no uncertain terms.
"We have to reiterate it – leaving the euro has never been considered and it is not being considered," he said.
While the comments may have soothed anxious investors and politicians across Europe, tensions over the new government's high spending plans aren't quite going away, as Euronews journalist Alasdair Sandford explains:
"It's not just a case of Italy against the EU, but how united will the coalition be within itself – because some of their demands frankly contradict each other. Where will they be united on things like nationalism and certainly on challenging the EU's budget rules? To what extent remains to be seen."
Get your daily dose of news and analysis on Good Morning Europe, Euronews' flagship morning show presented by Tesa Arcilla, live from our headquarters in Lyon.