UK opposition leader Corbyn 'would return Elgin Marbles to Greece'
Comments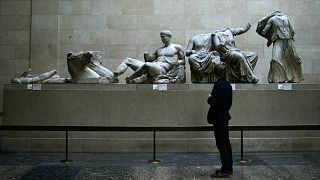 UK opposition leader Jeremy Corbyn has called for the famous Elgin Marbles to be returned to Greece, where he says it is "very clear" they belong.
Speaking to Greek newspaper Ta Nea, Corbyn stressed that the sculptures were "made in Greece, and that is where they were for thousands of years until they were taken".
"It is very clear to me that the Parthenon sculptures belong to Greece," he was quoted as saying.
The fifth-century BC sculptures were removed from the Parthenon temple in Athens by Thomas Bruce, the seventh Earl of Elgin, in the early 1800s when he was ambassador to the Ottoman court.
The British parliament purchased the treasures from Elgin in 1816 and gave them to the British Museum, where they remain today.
For decades Greece has called for the return of the sculptures, arguing that the Turkish authorities, whom Elgin claims gave him permission to remove them, were a foreign force acting against the will of the people they invaded.
Asked whether he would ensure the return of the sculptures if he became prime minister, Corbyn said that "as with anything stolen or taken from occupied or colonial possession — including artefacts looted from other countries in the past — we should be engaged in constructive talks with the Greek Government about returning the sculptures."
The Labour Party leader also spoke about the Greek debt crisis, which he said "clearly shows us that the political choice to impose severe austerity has terrible consequences for millions of people."
"State intervention in the economy, ensuring the retention of vital public services or choosing a different path to austerity must all be policy options available to democratic states," he said.
He reiterated to Ta Nea that his party respects the UK's decision to leave the European Union, but said he wants to pursue a "close future relationship" with the bloc.