Irish PM apologises over adoption scandal
Comments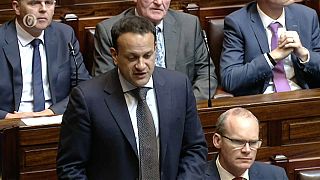 The Irish Prime Minister has apologised to more than 100 people who were illegally adopted after their birth certificates were falsified.
Leo Varadkar told the Irish parliament it was another ''dark chapter'' in Irish history that ''robbed'' children of their identity.
The apology came after it emerged that 126 people were illegally registered by a Catholic adoption agency in the 1940s, '50s and '60s ...... and they still might not know they were adopted.
It's the latest example of the once staunchly Catholic country coming to terms with aspects of its past ..... often involving the Catholic Church or church-run institutions.
For years Irish society stigmatised unwed mothers, often forcing them to give up their newborns and work as free labour in church-run laundries .
Such revelations have helped erode the Church's authority in recent years.
Only last week Ireland voted to repeal legislation that prevented women from having abortions.