Russian journalist 'death' was to foil assassination plot
Comments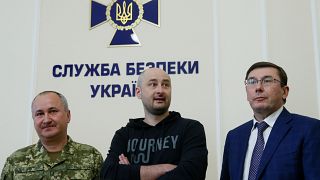 A journalist from Russia who was reported to have been shot dead in Ukraine has shown up at a news conference in Kyiv.
Ukrainian police had said earlier that Arkady Babchenko, 41, had been killed outside his home on Tuesday.
But after Babchenko showed up to a press conference about his 'murder', Vasily Gritsak, head of the Ukrainian Security Service, admitted the agency faked his death in a bid to catch those who were trying to kill him.
He claimed there was a Russian plot to murder Babchenko and that the operation to stage his killing had been planned for two months.
Police said they made one arrest in connection with the plot and released a video of the arrest on their official Youtube account. 
Gritsak said the operation began after they were informed that Russian security forces had hired a Ukrainian citizen as a hitman within Ukraine, adding that the person in question had offered various people more than €25,000 for the job. 
The journalist was an outspoken critic of President Vladimir Putin and fled Russia after allegedly receiving death threats for criticising Russian policy in Ukraine and Syria.
Russia's Foreign Ministry said Ukraine's use of Babchenko was 'propaganda'.
Follow the latest updates, below: