Ukrainian filmmaker Sentsov says he may die during World Cup to save fellow prisoners
Comments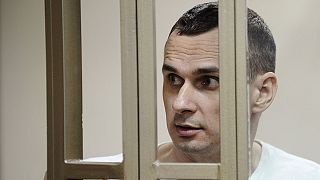 Imprisoned filmmaker Oleg Sentsov hopes the international community will use the World Cup in Russia to push President Vladimir Putin for the release of Ukrainians who human rights advocates say are held as political prisoners.
Sentsov started a hunger strike almost two weeks ago in the prison where he has been held in the town Labytnangi, Siberia, to campaign for the release of 64 other prisoners held in Russia and annexed Crimea. He told his lawyer that the timing of his decision was planned to present the possibility that he might die during the world's most-watched sporting event.
"Oleg's hunger strike should become a topic number one during the World Cup so that international politicians learn about this situation and join negotiations to free political prisoners," said Sentsov's cousin, Natalia Kaplan, to Euronews.
Sentsov was sentenced in Russia to 20 years in a penal colony for "plotting acts of terrorism", a conviction widely considered political. The European Union stated that "Oleg Sentsov and Oleksandr Kolchenko (convicted in the same case to 10 years in prison), and many others "were detained and sentenced in breach of international law.
Sentsov is supported by filmmakers worldwide, human right defenders and social activists. Pedro Almodovar and Johnny Depp (together with Voice project) are among the stars who raised their voice for Sentsov to be freed. Actors and directors showed solidarity with Sentsov at this year's Cannes International Film Festival, as is done each year at the festival. Kaplan says her brother is very grateful for what filmmakers from many countries have done for him, both in terms of exposure and financial support.
After nearly four years behind bars, Sentsov went on hunger strike on 14 May, a development that came as a surprise even to his closest family. They say he changed his position on such actions because he had little hope of gaining his own freedom and so decided to try to help others imprisoned, many of whom are listed as political prisoners by The Human Rights Center "Memorial".
"I, Sentsov Oleg, a Ukrainian citizen who was illegally sentenced by a Russian court and is currently serving a sentence in the penal colony of Labytnangi town, go on an indefinite hunger strike on May 14, 2018. The only condition for its termination is the release of all Ukrainian political prisoners who are jailed on the territory of the Russian Federation. Glory to Ukraine!" read a statement Sentsov passed to his lawyer Dmitriy Dinzo.
#SaveOlegSentsov activists are launching a global initiative during the first two days in June on social media to highlight political prisoners held by the World Cup host.
After announcing his hunger strike, Oleg Sentsov was moved to solitary confinement. Now, 12 days in, his health is stable and a doctor checks on him every day, according to his sister. Oleg Sentsov's health wasn't strong to begin with — he has suffered severe heart and joint problems since early childhood, and now has started losing his hair and teeth. The penal colony where Sentsov serves his term is located north of the Arctic Circle, so the climate also poses health threats to the filmmaker, according to his lawyer.
Kaplan had expressed bitterness over the silence from Ukrainian politicians regarding her brother's hunger strike. Officially, Kyiv has demanded that Russia free all Ukrainian political prisoners in the country and annexed Crimea. Kaplan says other countries are also believed to have appealed to the Kremlin on Sentsov's behalf.