Protests over fatal shooting of 2-year-old migrant girl in Belgium
Comments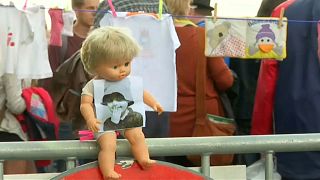 Hundreds have turned out in Brussels to protest against the fatal shooting of a 2-year-old Iraqi-Kurdish girl by police in the Belgian province of Hainaut a week ago.
They criticised the Belgian government and hung children's clothes on a line to show support for the young girl's parents.
Prosecutors said the shooting took place in Mons on May 17 after police chased a van transporting 30 illegal immigrants over a distance of 60 kilometres and bearing fake Belgian plates.
"It's not normal that in a country like Belgium a child is killed by the police like that, especially given that they didn't do anything wrong, they are just looking for safety," said a mother who came to hang children's clothes on the line.
Protester Nel Van Slijpe, said: "I'm really angry. I'm really sad that we are talking about democracy here and this is not democracy if a child could be killed. We want justice."
The German-born Mawda Shawdi, who was accompanied by her parents, later died from her head injury in the ambulance that was taking her to the hospital.