Death toll from Cuba plane crash rises
Comments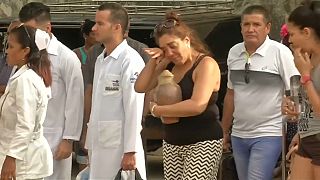 The death toll from the Cuban air disaster rose to 111 on Monday as concern grew over the operations of the Mexican company that leased the 39-year old Boeing 737 to Cuba's airline.
Grettel Landrove, one of only three survivors of Friday's crash, died in a Havana hospital. Two other women remain in a critical condition.
The airliner crashed shortly after takeoff on a domestic flight from Havana to the eastern city of Holguin on Friday in one of Cuba's worst air disasters.
The plane was a Boeing 737 built in 1979 and leased to Cuba's flagship carrier Cubana by a little-known Mexican company Damojh.
As relatives were allowed to collect their loved ones' possessions, Mexico's civil aviation authority said it had suspended the operations of the company while checks were carried out.
Damojh, which owned three 737s before the accident, has been suspended twice before during regulatory compliance reviews, the authority said.
Operations were halted for about a month in 2010 after a Damojh plane made an emergency landing in the Mexican beach resort of Puerto Vallarta due to a problem with its landing gear.
The authority investigated again in 2013 after receiving a complaint from Marco Aurelio Hernandez, who was identified at the weekend by Mexican media as a former Damojh pilot.
Hernandez was quoted by Mexican newspaper Milenio as criticising Damojh for a lack of adequate maintenance on its planes. The 2013 probe led to a suspension for about two months.