Palestinian President is hospitalised for third time in a week
Comments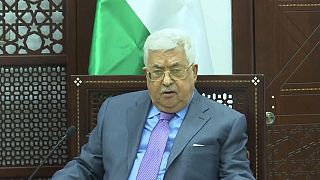 Palestinian President Mahmoud Abbas will remain in hospital for another day.
It's after the 82 year old was hospitalised for a third time in a week on Sunday after he received minor ear surgery last Tuesday.
The Palestinian leader was admitted to a clinic in Ramallah, in the occupied West Bank.
The Director of Al-Istishari hospital, Saed al-Sarahneh says, "President Mahmoud Abbas was admitted Sunday morning to Istishari Arab Hospital for medical tests after the surgery he had three days ago in his middle ear. All the tests are normal and his medical condition is reassuring".
President Mahmoud Abbas was suffering with a high temperature and chest pains according to unconfirmed reports.
His hospitalisation coincides with an escalation in Israeli-Palestinian tensions after Israeli troops shot dead dozens of Palestinian protesters on the Gaza border on May 14.