North Korea throws US talks in doubt
Comments
By Reuters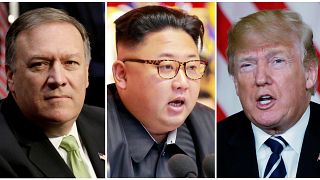 North Korea threw next month's unprecedented summit between Kim Jong-un and US President Donald Trump into doubt on Wednesday, threatening weeks of diplomatic progress by saying it may reconsider if Washington insists on pursuing a one-sided denuclearisation deal.
The North's official KCNA news agency said earlier Pyongyang had called off high-level talks with Seoul in the first sign of trouble in what had been warming ties.
Citing first vice minister of foreign affairs Kim Kye Gwan, KCNA later said the fate of the US-North Korea summit, as well as bilateral relations, "would be clear" if Washington spoke of a "Libya-style" denuclearisation for the North.
"If the US is trying to drive us into a corner to force our unilateral nuclear abandonment, we will no longer be interested in such dialogue and cannot but reconsider our proceeding to the DPRK-U.S. summit," Kim Kye Gwan said.
Kim specifically criticised US national security adviser John Bolton, who has called for North Korea to quickly give up its nuclear arsenal in a deal that mirrors Libya's abandonment of its weapons of mass destruction.
North Korea previously clashed with Bolton when he worked under the Bush administration, calling him "human scum" and a "bloodsucker".
"We shed light on the quality of Bolton already in the past, and we do not hide our feeling of repugnance towards him," Kim said.
The statements, combined with joint military drills by South Korean and US warplanes, mark a dramatic reversal in tone from recent months when both sides embraced efforts to negotiate.
North Korea had announced it would publicly shut its nuclear test site next week. Trump and Kim are scheduled to meet in Singapore on June 12.