Suicide bombers kills at least a dozen in attacks on churches in Indonesia
Comments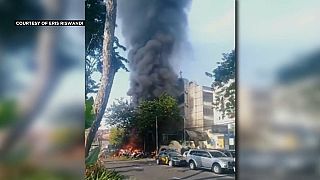 More than a dozen people have been killed in suicide bomb attacks on Catholic churches holding Sunday mass in Indonesia.
At least 40 people were injured in explosions at three churches in the city of Suarabaya.
A bomb disposal team was deployed to check for explosives.
So-called Islamic State claimed responsibility, but police say they suspect the bombers are members of a homegrown group inspired by so-called Islamic State.
At hospitals people were donating blood for the injured.
The attacks came just days after Islamist prisoners killed five members of a counter-terrorism force at a jail near Jakarta.
Police say they suspect a link with the church attacks.