US makes pledge to aid North Korea's economy
Comments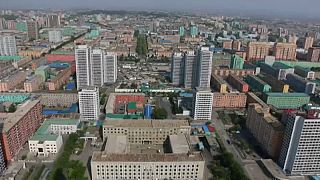 America will help rebuild North Korea's economy if it agrees to give up its nuclear weapons, US Secretary of State Mike Pompeo has said.
"If Chairman Kim chooses the right path, there is a future brimming with peace and prosperity for the North Korean people, he told reporters on Friday. 
"If North Korea takes bold action to quickly denuclearize, the United States is prepared to work with North Korea to achieve prosperity on the par with our South Korean friends."
International sanctions have impeded the economy, where roughly 70 percent of the country's population struggle to avoid hunger, and a quarter of children under five are suffer chronic malnutrition, according to the World Food Programme.
Tensions between the US and North Korea appear to have calmed in recent weeks following Chairman Kim's pleadge to denuclearize the Korean peninsula.
However, future relations hinge on the North making good on its promise.