UK says a deal on customs with EU is still on the table
Comments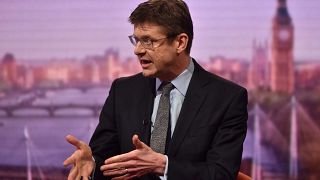 Britain's future customs arrangements after it leaves the bloc in March next year is fast becoming the main flashpoint in the Brexit debate, important because some fear it could usher in a return to a hard border between British-ruled Northern Ireland and the Irish Republic, possibly reigniting sectarian violence.
The UK government is currently working on two proposals to put forward to Brussels that have caused divisions in Prime Minister Theresa May's cabinet.
But speaking on the BBC's Andrew Marr show on Sunday, Britain's Business Secretary Greg Clarke said a deal is still on the table.
"If we can make progress ... as to what the right arrangement is in the long-term, it might be possible to bring that in over that period of time," said Clarke.
The EU insists that any arrangement must take in the avoidance of a hard border between Northern Ireland, which would remain part of the UK, and the Republic of Ireland, which remains an EU member.
But speaking on the same show, the leader of Northern Ireland's Democratic Unionist Party, which shores up Theresa May's Conservative Party in the British Parliament, said it is possible to leave the EU customs union and still avoid a hard border with the Republic.
"What we would like to see from the European Union," said Arlene Foster, "is less rhetoric and actually more engagement in relation to the pragmatic way forward, not just for Northern Ireland but for the whole nation as well."
The UK is under pressure from Brussels to make progress on the issue before next month's EU summit.