"Nobody wins with Brexit" says EU research chief Carlos Moedas
Comments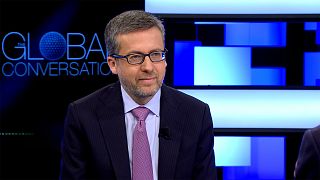 Governments worldwide are pouring cash into Artificial Intelligence to keep up with international rivals.
In Europe and beyond, the quest is on to harness the power of AI to transform industries from transport to agriculture.
Euronews reporter Jeremy Wilks has met the man in charge of Europe's research, science and innovation programme.
Carlos Moedas, European Commissioner for Science, Research and Innovation, oversees thousands of projects looking into things like healthcare, food, sustainable development, energy, artificial intelligence, and robotics.
Jeremy Wilks, Euronews:
"You are putting forward this week a budget for 100 billion euros to spend between 2021 and 2027 on science, research and innovation. That is a lot more than the 77 billion euros you're spending at the moment. What are you going to spend the extra money on?"
Carlos Moedas, European Commissioner for Science, Research and Innovation:
**"**First of all, thank you very much for your invitation. It's really unique. I think it shows, really, the vision of Europe and that Europe wants to put money in the future. And so I think it's the first time ever... it's the biggest increase ever in absolute terms. And we'll get to 100 billion euros for science, research and innovation. And actually, I think that when you think about it, countries don't have a lot of choices. If you want to create jobs, if you want to create wealth and pay well to the people so they have good lives, you have to invest more in science and innovation."
Jeremy Wilks:
**"**Are there particular areas though that you want to dig into? A lot of people are talking about artificial intelligence, for example. Is that something that you're going to be spending more money on?"
Carlos Moedas:
**"**Absolutely. I think the programme will have to be diversified. So you'll have to have part of the money for fundamental science, curiosity-driven science where you give the freedom to scientists to invent, to create, mixing between disciplines to create new things. But then you have global challenges. What are the things that we have as global challenges? And, of course, artificial intelligence, for me, is one of the major tools to solve those global challenges."
Jeremy Wilks:
"But do you think we really understand in Europe the real implications for the next decade? We're looking forward towards 2030. Do you think we really, really understand what impact this technology will have?"
Carlos Moedas:
**"**I think that nobody does, here or in the US or in China. I think that we are really at the beginning. My vision is that it's more a political choice than a technological choice."
Jeremy Wilks:
"What do you mean by that?"
Carlos Moedas:
**"**I think that it's funny that we always think about artificial intelligence as technology. I think that we have to have political choices. And a political choice to me is very obvious. It's that I want artificial intelligence that helps me to be better, that augments my intelligence. I don't want artificial intelligence that replaces me. If machines replace tasks, humans have to be the ones that link the tasks. Because machines don't do that. Machines don't have a will. I mean, machines have the will of the person that builds those machines. So what we have to focus on is creating new professions that will be very different from the ones we have today, but will be essential for those machines to do those tasks. So if we have a city with just autonomous drive, there will be no drivers, but there will be 'traffic controllers', because you have to control the traffic. So you will have different professions."
Jeremy Wilks:
"You talked about choices, political choices. This budget which you're presenting this week is post-Brexit. It is 100 billion euros for 27 member states. Who wins out of Brexit in science and research?"
Carlos Moedas:
**"**Oh, that's a difficult question, because I think nobody wins with Brexit. I think that we don't win, the UK doesn't win, and I think it's just a lose-lose for everyone. We just have to take the emotions out of it and try to do the best we can."
Jeremy Wilks:
**"**Do you think that European researchers will be able to work with UK researchers and scientists?"
Carlos Moedas:
**"**Oh they have to."
Jeremy Wilks:
**"**Can you guarantee that, definitely?"
Carlos Moedas:
**"**No, I don't have that guarantee. But I have the guarantee that actually stronger than politics is people. And when you go to the UK universities, or you go to other universities on the continent, you see that researchers today have no borders, that these teams have people from the UK, from France, from Italy, from Spain, from Latvia. And that is something that politics cannot break. The question is... who is going to pay for it? I would love to be part of getting to a solution in terms of a way of getting the UK and the European Union together in a science programme. Today I cannot give that guarantee to anyone listening, unfortunately. But I think that we all have to fight for that."
Jeremy Wilks:
**"**Let's talk about where we are now. Europe's got a lot of SMEs. A lot of them participate in these research projects that you oversee. But we don't in Europe have Amazon, Google, Facebook. We don't have entrepreneurs like Elon Musk. Why is that?"
Carlos Moedas:
**"**First of all, I think that sometimes we are too negative about looking into Europe, because we were really the leaders in the first wave of the internet. Tim Berners-Lee is from Switzerland. (Editors note: British computer scientist Sir Tim Berners-Lee worked in Switzerland). Nokia, Siemens, all those were European.
"In the second wave of the Ubers, and Facebooks, and Elon Musks, we were not successful, and that's why we talk about it, because that's the present. But I think that the future, the next wave of innovation will be much more into technology, into fundamental science. And I think that Europe has a new shot, we have an opportunity to be ahead again.
"So what we have to do - and that's why it's important, this 100 billion - is to focus on what are the fundamentals. Artificial intelligence. blockchain, machine learning - those are the things that we are very good at. If you look at the number of articles, the real science that is done, you find it in Europe. So I think that we should not be very worried about saying 'Oh, we don't have the Ubers and the Facebooks'. We have to think, 'What will be the Ubers of the future?'"
Jeremy Wilks:
"One of the things that you have been putting forward is big 'moonshot' style projects. You've been talking about things like ITER with nuclear fusion, you've been talking about trying to deal with cancer or Alzheimer's. Can you just give me a sense of your ambition on that, and what you think is actually really realisable? Are European researchers going to be able to fix some of these major problems, do you think?"
Carlos Moedas:
**"**I think that it is important to link people to Europe. So this is not just about science. It's about having mission-driven science where people understand what we do. Today, it's quite difficult. People don't understand what we do, in the day-to-day. Science is so complex that they don't see it in their day-to-day lives. So what we want is to have these missions where you tell people things that they really understand. I give some examples, like 'Europe has to be the first to cure Alzheimer's', or to 'transform cancer into a chronic disease', or have 'the first zero-carbon (emissions) plane'. And then people understand that, and you actually rally people around you. If you have that, you have that connection. And you know, I think that Europe has lost somehow that connection with the people, and science can be really a good tool to reconnect Europe to the people."