Towerblock collapses in Sao Paulo after fire
Comments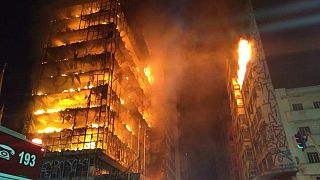 -
An abandoned tower block in central Sao Paulo has collapsed following a fire.
The building, estimated by firefighters to have been between 10 and 20 stories high, was inhabited by an unknown number of squatters.
It's not clear how many people were trapped inside but emergency services told Euronews that they were speaking to at least one person on one of the upper floors shortly before the structure gave way.
The fire services were alerted to the blaze at 1:30am local time and have deployed more than 150 personnel to combat the flames at the Paisandu Plaza in downtown Sao Paulo.