Jingle Bells: May Day Morris dancing in England
Comments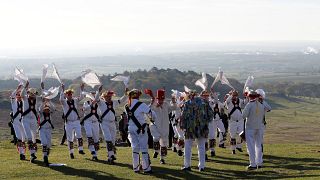 On May Day, traditional English Morris dancers were up at sunrise to do what they like doing best...
Hailed as one of the oldest forms of dance in the country, the art form's origins are disputed.
But amid a revival in recent years, some see symbolism in the waving of hankies - to ward off evil spirits - and the clashing of sticks - to awaken the earth after winter.
And why is May Day morning so special?
Some believe that seeing sunrise brings good fortune for the rest of the year.
with Reuters