Former Brazilian gymnastics coach accused of sexual abuse by gymnasts
Comments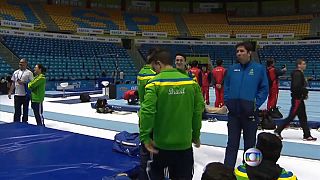 A community sports centre has fired a former coach of the Brazilian national gymnastics team after a news report revealed that dozens of athletes he worked with have accused him of sexual abuse.
Reporters for the "Fantastico" news show on Globo TV spoke to 40 gymnasts and former gymnasts who said Fernando de Carvalho Lopes had abused them while they were minors, including watching them shower, touching their genitals and asking them to masturbate in front of him.
The Sao Paulo state security department confirmed police are investigating but would not provide any more details because the case is under judicial seal.
Clube MESC, a community centre with several sports programmes in an industrial city outside Sao Paulo, said it fired Lopes after the report aired on Sunday night.
The club said that it had put Lopes on administrative leave two years ago when the first accusations against him emerged and that he had not had any contact with athletes since then.
The club said that since the case is under seal, it did not know the extent of the accusations until Sunday's report.
Lopes denied the accusations in a telephone interview with Globo, saying he never raped or molested anyone.
Neither Lopes nor a lawyer for him responded to requests for comment from The Associated Press.
TV Globo, which investigated the case over four months, has not provided the dates and locations of the interviews and the images used in the report.
The allegations are reminiscent of the case surrounding former US gymnastics doctor Larry Nassar, who admitted to molesting some of the country's top gymnasts, including while he worked at USA Gymnastics and Michigan State University.